Sprint LTE Plus branding for spectrum aggregation, beamforming technology
Sprint said its ongoing network enhancements are now available in 77 "major" markets across the country and will be marketed under the LTE Plus moniker.
Sprint CTO John Saw took to the carrier's blog to tout the service expansion and new name, which encompasses some of the technology improvements from the LTE-Advanced standard. Those improvements include carrier aggregation of Sprint's 800 MHz, 1.9 GHz and 2.5 GHz spectrum bands, as well as antenna beamforming designed to take advantage of Sprint's eight transmit, eight receive LTE radios. Saw stated the performance improvements are most visible at the cell edge and indoors.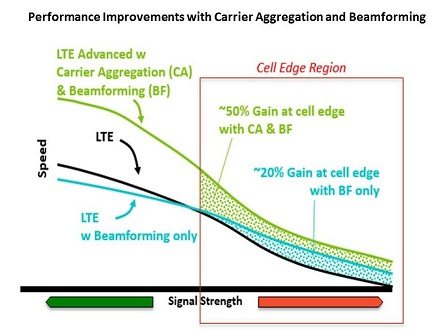 "Simply stated, while our competitors are sending LTE data meant for a specific customer to everyone in a sector, we are able to transmit more directive beams to exactly where our customers are located," Saw explained, noting the carrier's network was able to produce peak speeds in excess of 100 megabits per second.
Those speeds are currently available on 13 devices, including the latest Apple iPhone 6s models, the HTC One A9 and Samsung Galaxy S6.
Looking ahead, Saw said Sprint plans to add greater channel aggregation from its extensive 2.5 GHz spectrum holdings to further bolster LTE speeds; higher-order multiple input/multiple output and more advanced beamforming antenna technology; and "seamless" Wi-Fi integration. Those network technology advances are part of the reason Sprint decided to forgo the Federal Communications Commission's highly anticipated 600 MHz incentive auction proceedings.
Saw also said network densification remains "key" to its strategy, which is set to include "increasing the number of cell sites across our 2.5 GHz, 1.9 GHz and 800 MHz spectrum bands." Sprint earlier this year said it plans to install thousands of new macro sites and tens of thousands of small cells designed to help it "add capacity in targeted high-traffic areas, as well as extend better service in hard-to-reach locations and indoor sites." Saw at that time said Sprint engineers had been working very closely with counterparts at parent company, SoftBank, which has deployed a small cell network in Japan.
Sprint's move to aggregate spectrum from its 800 MHz, 1.9 GHz and 2.5 GHz bands was initially grouped under its Spark program, which was launched in late 2013. That program included talk of using the 8T8R radios to produce network speeds in excess of 50 Mbps.
However, the Spark program seemed to lose steam as the carrier struggled with its core Network Vision upgrade and eventual leadership change. Sprint earlier this year scored more than $2 billion in new vendor financing from Nokia Networks, Samsung and Alcatel-Lucent tied to its 2.5 GHz spectrum holdings, which looks to have been the cash infusion needed to bolster its network efforts.
The network news comes on the heels of Sprint moving forward with a restructuring program, which will see the company split into four regional offices and includes job cuts. The new decentralized approach is part of CEO Marcelo Claure's effort to reverse a seven-year streak of subscriber losses and better serve the carrier's customers in 19 major U.S. markets. The four new regions will have a president who will report directly to Claure. Each of the 19 key markets also will have a president. In addition, the plan includes a more united sales approach, which will target Sprint's entire customer base as opposed to its current strategy of dividing the sales team into separate channels.
Bored? Why not follow me on Twitter